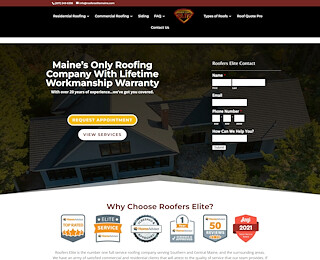 The education system did not teach us to make six figures with a plumbing or roofing company. More people are waking up to the real value of roofing practices and opening as many firms as possible. The problem is that these roofing services in Maine do not always have the right qualifications for residential roofing projects. It is best to get in touch with an experienced roofing company to avoid the maze of scammers in the industry.
Reasons we have the best roofing in Maine.
Legit papers
The best roofing firm has the right papers to work at national and state levels. The legit roofing firm has licenses and insurance details to assure you of safe and excellent roofing. You are safe in the event of injuries at the workplace. We have easily accessible insurance details to ensure you are free from the risk of litigation.
Locality
The best roofer should be a drive away from your building. It is hard to keep up with a roofing firm that is a state away from your location. We have the best roofing in Maine because of our central location to most clients. It is easy for us to handle a decent number of projects in one week because our team can drive around with all resources necessary to complete all kinds of Maine roof replacement projects.
Our roofing firm employs local staff and has a strong community presence. Any problems in ongoing and past projects will pass through the chain of command fast for immediate attention. It is easy to know and get in touch with our managerial and founding team for complicated concerns.
Quotes
The best roofing company in Maine has a general quote for all kinds of projects. The right roofing firm has a detailed quote for different parts of the project. The quote details may give you a bargaining chip for lower fees when you remove unnecessary tasks and services. Most importantly, we will come to your location for an inspection that will give detailed fee quotes.  
Work quality
The roof is the most fragile house structure because it has considerably weak materials and the most exposure to damaging external elements. We must guarantee the highest quality of work from the installation to the best roof repair in Maine.
Maine roofing contractors offer several warranty options, so you have peace of mind after installation. The right firm will have a two-decade warranty offer with unrivaled customer support. We have a prompt response team for emergency roofing problems with an efficient financial team to quickly process your details.
Long history
Do your best to stay away from door-to-door roofing companies. They have a challenging sales approach and will sell their unproven skills to unsuspecting clients. The roofing firm with a more extended history of work will typically adhere to an expected standard of work. Do not fall prey to forceful tactics; instead, call a trusted roofer for an in-person consultation. Roofers Elite LLC is reachable at (207) 415-6232) contact for a free quotation.
Roofers Elite – Maine Roofing Company
207-708-8966
60 Mountain View Drive
Auburn ME 04210 US