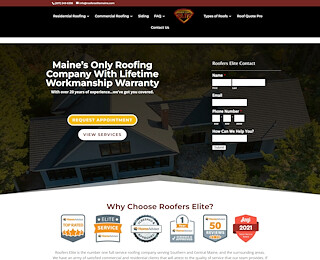 There are many roofing companies in Portland, Maine. They are tasked with repairing, maintaining and installing roofs of different kinds. All roofing companies are as good as their works. Of the lot, Roofers Elite LLC is the best because our roofing works outlive those of others. Durability is guaranteed when compared to what others in similar field offer or deliver.
However, below is an in-depth look into what sets us apart from others in the industry.
WE DELIVER AWESOME SERVICES WITHOUT ASKING YOU TO BREAK THE BANK
We understand that roofing works tailored to the desires of our customers need not be overpriced. We know the place of affordability, and we make sure to complement perfect roofing services with prices everyone can afford. This operating principle is peculiar to us because others believe good services add up to good pay.
Some even go beyond normal to make good services a luxury, afforded only by a few individuals. We are different from others because we are not in competition with them. We are the foremost roofers, and others look up to us. We offer the best roof repair in Portland, Maine, without depleting our customers' finances.
WE OFFER FREE ROOF CHECKS AND CONSULTATION
One of our uniqueness is the free consultation services peculiar to us. You are free to inquire from us whatever you need to know concerning your roofing needs. We will come over to your home, run a check on your roof and proffer solutions, and give you quotations without compelling you to go ahead with the repairs. That is if you wish not to proceed with the repairs. This provides us with the edge of Maine's best roofing company because other roofing companies do not offer free roof checks and consultation.
WE ENSURE OUR QUALITY DISTINGUISHES US 
When the residents of other parts of Portland see a roof, they can tell the roofs done by Maine roofers in Portland. The mark of difference is the quality of the roofing of the house in question. Ours stand out tall and elegant; we make sure to make quality roofing that is also attractive. Be assured our roofing services is near everlasting as we employ skilled and dedicated artisans to start and complete your roofing needs to your utmost satisfaction.
WE HAVE BEEN TRIED AND TRUSTED
Quality gives birth to trust. Our customers trust the process and product of our services and the materials involved, that is why they spread the good news of our roofing services in Portland. Our watchword is superlative roofing services delivery that distinguishes us from others because nothing beats a job well done. They tell others how Portland ME roof replacement is second to none.
QUALITY ROOFING IS IMPORTANT
To protect your roof against bad weather is not negotiable. The roof protects against snow, rain and any other inclement weather. And this is one crucial reason why you shouldn't leave your roofing to inexperienced roofers who will only deliver shabbily and ready to fail roofs. It would be best if you trusted Portland Maine roofing contractors with all of your roofing needs. We offer a comprehensive start to finish roofing repairs without making you break the bank.
Nothing good comes easy, but Portland Maine roofers make good roofing repairs easy. It is incredible how quality can be affordable. Contact Roofers Elite LLC for a free quotation: (207) 415-6232.
Roofers Elite – Maine Roofing Company
207-708-8966
60 Mountain View Drive
Auburn ME 04210 US