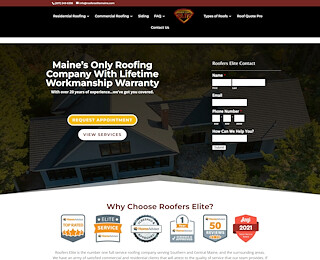 You expect the roofer to install your roof with a professional touch and to comply with the manufacturer's directives. But you might be having a hard time finding a roofer that will adequately handle this for you.
Try patronizing us to experience unsurpassed services? At Roofers Elite, we dedicate our time to always upgrade ourselves on roofing, windows, sidings, and many more. We understand all the building codes, general construction, and roof ventilation. We're just not your average roofing company, and what we do is important to us. We are proud to tell you that Roofers Elite is not your typical roofing company, but we are top of the line. As a foremost roofing company in ME, we are regarded as Maine's best roofing contractors.
In case you suspect your roof has gotten damaged by a storm and you need to fix a new roof, Roofers Elite is always available to offer help. Our services have proven that we are one of Maine's best local roofers, so don't hesitate to contact us. Our team handles commercial, multi-family, and residential projects. We have the depth of experience, financial strength and resources required. 
Furthermore, we are a fully insured Licensed Roofing Contractor with Auto, Workman and General Liability Comp.
We understand that there is a need to have well-trained staff for customers to receive unbeaten quality. As a result of this, we ensure to employ quality hands who always crave to produce second to none service. We work as a team at Roofers Elite, and we make sure to provide a secure and safe roof over our customers' heads. 
Why Would You Choose to Install Your Roof at Roofers Elite?
Roofers Elite, a Maine professional roofer, is a Master Elite Roofing Contractor. It means we can offer you the best warranty service among all Maine roofing companies. We are certified and well-trained in using accessories and products for any Maine roofing services you need.
Also, Roofers Elite is a Certainteed Select Shingle Master Contractor, which means that we offer any SureStart Plus services. We are certified and well-trained in their top-notch roofing services.
We have installed numerous roofing projects over the years. We keep learning about the recent development in nailing, ventilation, and many other roofing components, to meet the latest trends and satisfy our customers. 
A 3 tab shingle, which is more vulnerable to wind damage and can render a roofing company warranty unauthorized, is what many remodelers utilize. However, Roofers Elite uses starter shingles on the eaves since that is the proper installation roof.  
Our proper ventilation services will also make sure your home is properly and well ventilated. Many roofers overlook this important roofing service. As a result, insufficient ventilation in a home will make your roof deteriorate.
It is always great to check any company's past performances from customers' feedback. Many people want to be 100% sure of the company they wish to patronize to offer them top-notch service.
Over the years, we have had many superlative reviews from our clients. You can check out our reviews. We have also won several awards and are regarded as one of the best Maine roofing companies. Ready to get started? Contact Roofers Elite for the best roofing services in ME (207) 415-6232. 
Roofers Elite – Maine Roofing Company
207-708-8966
60 Mountain View Drive
Auburn ME 04210 US