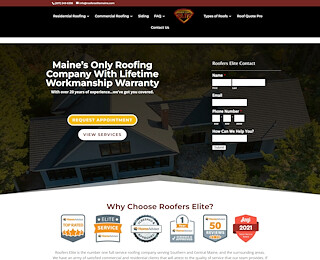 Get the Finest Metal Roofing in Maine
If you want to install or replace a roof, you will surely be looking for different alternatives for materials. It is essential to choose a material that will allow you to protect your property efficiently for years to come. There are different alternatives of materials, including wood, asphalt, and even glass.
However, the best alternative is a top-of-the-line metal roof, installed by a leading metal roofing company in Maine. It's essential to know the great advantages metal roofing has over other options. In addition, you should know where you will find the best metal roofing in Maine.
Why Metal Roofing is Better
Durability
Metal roofs are the most durable of the options. Asphalt roofs, for instance, maybe useful for 12 to 20 years. Other options, like wood, will not exceed 25 years. In contrast, an excellent metal roof installed by top Maine metal roofers will last you at least 40 years. With proper care, this structure can protect your home or business for up to 70 years.
Strength
Keep in mind that the roof must withstand the attack of the elements. A good metal roof can withstand wind gusts of up to 140 miles per hour, much more than other alternatives. In addition, coated metal roofs will not corrode or crack. If you put in shingles or wood, the roof can break on impact. In contrast, metal roofs can withstand shocks, maintaining their shape and protecting the interior of the structure.
Lightweight
By placing a wooden or asphalt roof, you will be placing significant weight on the structure. Depending on the material, the surface can add between 70 and 90 pounds per square foot. In contrast, there are metal roofing alternatives on the market that will add only 5 pounds per square foot and the heavier ones only 15 pounds. This will prevent fatigue in the columns and walls, contributing to the durability of the structure in general.
Energy Efficiency
Metal ceilings are the most helpful in regulating the internal temperature of a property. Unlike other alternatives, the metal roof reflects the sun's rays efficiently, preventing heat from passing through. This will allow you to save between 10% and 25% of electricity consumption if you decide to install an air conditioning system.
Easy to Install & Maintain
A roof installation project is fast. Unlike other alternatives, you will be able to enjoy your new roof in 3 days tops. Even if the area is not very large, premier metal roof services like Roofers Elite LLC can complete the project in just one day. Regarding maintenance, the strength of the metal prevents constant repairs due to breakage or cracking. Just make sure you inspect it regularly to make sure everything is working at top performance.
Trust the Premiere Maine Metal Roofing
Protect your property with the best alternative, installing a state-of-the-art metal roof. For this, you can count on Roofers Elite LLC, the best in the region. Let our more than 20 years of experience work to your benefit, at the most competitive prices in the market. Contact Roofers Elite LLC for a free quotation.
Roofers Elite – Maine Roofing Company
207-708-8966
60 Mountain View Drive
Auburn ME 04210 US