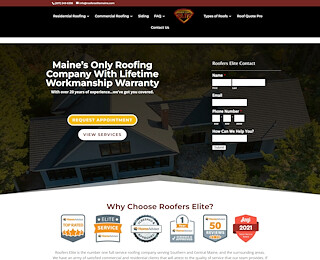 Are you searching for a reliable roofing contractor in Auburn, Maine? Roofers Elite is a preeminent roofing services provider in ME with a reputation for honesty, quality, and transparency.
Roof maintenance tips for homeowners
Taking steps to care for your roof regularly can extend your roof's life and save your home from major roofing repairs. As the best roofing company in Auburn, Maine, we offer roofing installation, replacement, maintenance, and repair services at budget-friendly prices. Here are some roof maintenance tips for homeowners:
Perform a thorough roof inspection at the end of every season and look for signs of wear and tear, shingle damage, growth of mold, moss or lichen, material decay, and check the integrity of the caulk around the vent pipes.
Call a professional Auburn Maine roof replacement company for regular roof inspections to identify roofing problems in their early stages and prevent them from escalating into a massive problem.
Remove dead leaves, debris, and other dirt from your roof and gutters with regular cleaning.
We offer the best roof repair in Auburn with a dedicated and passionate roofing technician team. With our lifetime quality warranty, you can enjoy significant cost savings and a healthier, sturdier roof in the long term.
How long does a roof last?
Typically, asphalt shingle roofs last between 20 and 25 years, while slate, copper, and tile roofs can go for 50 years or more. If you have a wood shake roof, you can expect it to last around 25 and 30 years with regular maintenance and proper upkeep.
Alternatively, fiber cement shingles last up to 25 years. However, the climatic conditions and the weather (snow, hail, and hurricanes, etc.) in your state can affect your roof's performance and life span.
Top reasons to hire us for your roofing needs
The roof often becomes one of the least maintained or most neglected parts of a home. As one of the leading Auburn Maine roofing contractors, we help you stay ahead of some of the common roofing issues experienced by homeowners by detecting them in the early stages. Here's why you must hire us for your roofing needs:
Awards and accolades – We are Homeadvisor's top-rated roofing contractor with hundreds of positive reviews from past customers. 
Experience – With over two decades of experience, we handle almost anything related to roofing. We are a full-service company with a dedicated team of roofers and unsurpassable prices. Besides, we are the only company for roofing services in ME to offer a lifetime warranty on craftmanship.
License and insurance – We are a locally-owned and licensed business with all the essential permits to offer roofing jobs in and around Maine. We own workers compensation and liability insurance for all our technicians, protecting them and you from any on-the-job mishaps and accidents.
Call Roofers Elite at (207) 415-6232 for a free quotation. We are a team of roofing experts with over 20 years of experience, hundreds of happy customers, and unbeaten prices. Get in touch with the #1 roofing contractor in Auburn, Maine, to discuss your roofing needs.
Roofers Elite – Maine Roofing Company
207-708-8966
60 Mountain View Drive
Auburn ME 04210 US