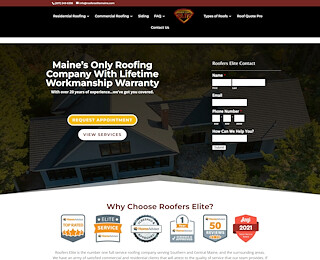 One of the essential parts of a house is the roofing. It is almost as important as the foundation because it protects your home against the sun and rain. Also prevents any form of intrusion from above. This is why the roof should be not only durable but also attractive. No one can fault roofs that have stood the test of time, especially when such roofs succumb to the dictates of wear and tear. At Roofers Elite LLC, we specialize in repairing all types of roofs to our customers' utmost satisfaction.
WHY YOU SHOULD TRUST US TO ROOF YOUR HOME
Roofers Elite LLC has been roofing Falmouth Maine for more than two decades. We have the available experience and expertise to satisfy all of your house roofing needs. We have sustained the legacy of putting our customers' satisfaction as our ultimate guiding principle, especially residents in Southern and Central Maine, and the adjoining areas. Our customers can vouch for our superlative roofing installation, repairs and maintenance. They know we are the most competent company to deliver top of the line roofing services and they are also willing to refer us to others as the best roofing company in Falmouth Maine.
Referrals are based on trust. No one dares to refer a business they can't trust. This is why customers, refer trusted and tested businesses to whoever is desirous of the same service upon getting satisfied with a service or job well done. At Roofers Elite, we have gained our clientele's trust because we work on all your roofing needs with the understanding that a perfect job advertises itself. The roof we repair or install will speak for itself. We cherish delivering unsurpassed roofing services in Falmouth, Maine.
WE KNOW OUR ONIONS
To be well known, a business should focus on a field of endeavour it is well equipped and experienced in, so its customers can have value for their money. We at Roofers Elite, have chosen to be the ideal roofing services company you can count on. We are experts at various roofing needs your home requires. Our credibility and perfect roofing services help us stand out as the leading home roofers in Southern and Central Maine. The good works spread out also to adjoining areas.
WE OFFER TOP NOTCH SERVICES AT AFFORDABLE PRICES
Everybody loves the good things in life. Sadly, most of the good things in life do not come cheap. Good, quality items and services attract high prices. Understandably, so it takes enough time and resources to produce anything that is of good quality. This also applies to quality, time-tested services such as repairing or installing the roof of a house. We have imbibed delivering quality roofing services at affordable prices, making us your leading Maine roof replacement company.
We established ourselves as the foremost Falmouth Maine Company concerned chiefly with installing and repairing roofs through the years. We are at your beck and call when it comes to your best roof repair in Falmouth ME, contact Roofers Elite LLC for a free quotation: (207)415-6232.
Roofers Elite – Maine Roofing Company
207-708-8966
60 Mountain View Drive
Auburn ME 04210 US